New books by Tim Delaney are always in the works!


The Sociology of Sport, Third Edition (2021)

In this, the third edition of The Sociology of Sports: An Introduction (McFarland Publishing), the authors have significantly updated statistics/data and information found in each chapter and many of the "Connecting Sports and Popular Culture" Boxes have also been revised or replaced. Incorporated into this edition is the impact of the global pandemic (SARS-CoV-2, or COVID-19) that wreaked havoc around the world and impacted sports; the social movements of "Black Lives Matter" and "Me Too" that impacted sports; the right for athletes to profit of their own names, images, and likeness (NIL); and many other topics.

Beyond Sustainability: A Thriving Environment,

Second Edition (2021)

In this, the second edition of Beyond Sustainability (McFarland Publishing), the authors have made a huge number of updates both in terms of more recent data and examples, and also with the introduction of new topics and concepts. In many ways, then, this is like a new book.   There remains, however, an underlying focus on the causes, both human and natural, of the current sixth mass extinction process. The authors point out that there are just 100 seconds remaining on the "Doomsday Clock."

Darkened Enlightenment:


The Deterioration of Democracy, Human Rights, and Rational Thought in the Twenty-First Century (2020)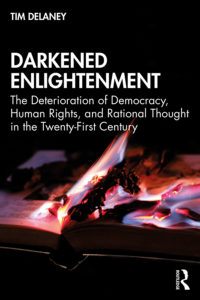 Darkened Enlightenment (Routledge, 2020) presents a critique of modernity and provides a socio-political and cultural analysis of world society in the early twenty-first century. Specifically, this analysis examines the deterioration of democracy, human rights, and rational thought. Key features include a combination of academic analysis that draws on numerous and specific examples of the growing darkness that surrounds us along with a balanced practical, everyday-life approach to the study of the socio-political world we live in through the use of popular culture references and featured boxes. The general audience will also be intrigued by these same topics that concern academics, including: a discussion on the meaning of "fake news," attacks on the media and a declaration of the news media as the "enemy of the people," the rise of populism and nationalism around the world; the deterioration of freedom and human rights globally, the growing economic disparity between the rich and the poor; attempts to devalue education; a growing disbelief in science; attacks on the environment; pseudoscience as a key by-product of unreasoned and irrational thinking; the political swamp; the power elites and the "deep state;" and the variations of Big Business that impact our daily lives.
Common Sense as a Paradigm of Thought:

An Analysis of Social Interaction (2019)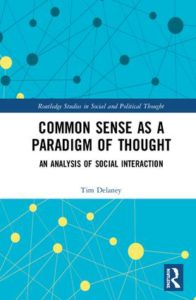 Common Sense as a Paradigm of Thought: An Analysis of Social Interaction (Routledge Publishing) represents Tim Delaney's 21st book to date. This book presents common sense as a "paradigm of thought" and as such, compares it to other major categories of thought—tradition, faith, and enlightened and rational. Combining a balance of practical, everyday approaches (through the use of popular culture references and featured boxes) and academic analysis of core and conceptual methodological issues, Delaney demonstrates: the limitations of common sense and its place in everyday social interactions; how we learn abut common sense; and why common sense is so important. Common Sense introduces readers to a rich variety of social thinkers and will appeal to students, researchers and anyone interested in the topic of common sense. This sociological analysis of social interaction will be of great interest to those in sociology, philosophy, social psychology, cultural studies, communications and health sciences.


9781138318199 (Hardback)

A Global Perspective on Friendship & Happiness (2018)

978-1-62273-376-7 (Hardback)

Tim Delaney and Tim Madigan serve as co-editors on this book that examines the topics of friendship and happiness from an international perspective. The co-editors each contribute two original chapters to this international collection of articles from authors around the world.

https://www.oswego.edu/news/story/conference-ireland-leads-professors-book-friendship-happiness 

Friendship and Happiness
And the Connection Between the Two (2017)

 

ISBN: 978-1-4766-6896-3


ISBN: 978-1-4766-2990-2 (eBook version)

In Friendship and Happiness, authors Tim Delaney and Tim Madigan present a fascinating, fun and informative look at the topics of friendship and happiness while drawing attention to the connection between these two subjects. The examination of friendship begins with a review of Aristotle's three categories of friendship–friends of utility, friends of pleasure, and friends of the good. The discussion of friendship continues with a look at modern variations of friends (e.g., casual friends, close friends, and best friends) and includes a description of cyber socialization and the growing phenomenon of electronic and virtual variations of friendships and relationships. The authors demonstrate the value of friendship in a wide variety of ways including its connection to happiness. Beginning with the premise that in order to be happy one must first conquer unhappiness, Delaney and Madigan add chapter descriptions of happiness from philosophical and sociological perspectives. Friendship and Happiness includes many references from the world of popular culture as well. Readers of all ages should find this book to be highly entertaining and edifying.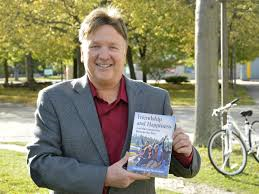 http://www.syracuse.com/entertainment/index.ssf/2017/11/cny_book_awards_rabuzzi_cofrancesco_bartolotti.html#incart_river_mobile_index
Social Deviance (2017)

ISBN: 9781442252523 (cloth)

ISBN: 9781442252530 (pbk)

Social Deviance (Roman & Littlefield) utilizes a textbook-style approach in its coverage of deviant behavior; this comprehensive, straight-forward, and student-friendly book design will maintain the interest of students because of the author's writing style. The author has a way of covering key concepts and subject matters that professors deem important while using contemporary examples of deviant behaviors that students find relevant to their lives. Chapters will include "popular culture" and "closer look" boxes. Chapter topics covered include, social problems; white collar, political, and organizational crime; street crime (violent offenses and property offenses); violence; alcohol; drug use and abuse; cyber-technology; mental illness and disorders; sexual deviance; environmental deviance; social control; and social deviance and its omnipresence.

Take a look at this description of Social Deviance…

https://www.oswego.edu/news/story/professors-new-book-explores-deviations-societys-norms-laws

To order the book, go to Rowman and Littlefield's website: https://rowman.com/

Lessons Learned From Popular Culture

(2016)

 

ISBN-10: 1438461453 ;

ISBN-13: 978-1438461458

In Lessons Learned, the authors have divided popular culture into specific genre categories consisting of: movies; television; the Internet; music; radio; cartoons and comics; books; technology, fads, trends and fashion; comedians, celebrities and other spokespersons; sports; and, virtual reality. The authors share six short essays relevant to each category of popular culture and offer a "lesson learned" at the conclusion of each. Their aim is to get readers to think more closely about their own favorite shows, celebrities, and social networking and reflect on how these contribute to how they find meaning in their lives.

As the "culture of the people," popular culture provides a sense of identity that binds individuals to the greater society and unites the masses on ideals of acceptable behavior. Lessons Learned from Popular Culture offers an informative and entertaining look at the social relevance of popular culture. Lessons Learned will be a hit with young and old, male and female, and folks from all walks of life. 

This book can be purchased by visiting the website of SUNY Press


http://www.sunypress.edu/p-6261-lessons-learned-from-popular-cu.aspx

 

Sportsmanship: Multidisciplinary Perspectives

(2016)


ISBN-10: 078649803X ;

ISBN-13: 978-0786498031

Sportsmanship: Multidisciplinary Perspectives represents the most comprehensive collection of essays on the meaning of sportsmanship from scholars of multiple academic disciplines from nations across the globe. Contributing authors have covered a wide range of topics related to sportsmanship including: good sportsmanship and poor sportsmanship; cheating; ethics; sports and leisure in prison; youth sports; physical education; cognitive psychology; applied sportsmanship; ideals of sportsmanship throughout history; Irish sports; sportsmanship from the perspective of coaches, athletes, and referees; economics; race and ethnicity; the media, including film; and concludes with a look at the role of sportsmanship in the future.  

This book can be purchased by visiting the McFarland Publishing 

website: http://www.mcfarlandbooks.com/

The Sociology of Sports, Second Edition

(2015)

ISBN-13: 9780786497676 ;

ISBN-10:078649767X

The Sociology of Sport, Second Edition, the most extensive review of the role of sports in society of any text on the market, has now been updated. Popular Culture and Sports featured Boxes have been added to each chapter; specific topics and tables and charts have been updated with the most current data; and, new tables have been added. New topics discussed in the second edition include: athletes and domestic violence; online gambling; the growing concern of concussions and post-care problems; the growing role of social media; virtual reality and sports (e.g., fantasy sports leagues); and, an increased look at the NAIA, NJCAA, and Division II and III sports. In its second edition, The Sociology of Sports takes a fresh approach to the study of sports, presenting key concepts such as culture, socialization, youth sports, violence, deviance, economics, gender, race, ethnicity, religion, politics, the media and the role of sports in society. The authors offer a critical examination but also highlight the many positive aspects of sports. Each chapter concludes with a popular culture section, showing how films, television, video games, music and short stories have contributed to our understanding of sports' significance to our lives.

This book can be purchased by going to the McFarland Publishing website:

http://www.mcfarlandbooks.com/

Visit this site for a press release copy: http://www.oswego.edu/news/index.php/campusupdate/story/sports_sociology_revisited

Beyond Sustainability: A Thriving Environment

(2014)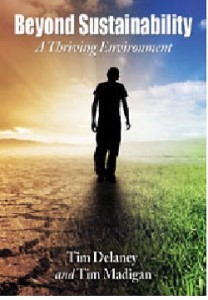 Print ISBN: 978-0-7864-7959-7
Ebook ISBN: 978-1-4766-1516-5
Beyond Sustainability: A Thriving Environment is a forward-looking text approaches the study of the environment from two academic disciplines–sociology and philosophy. Both sociologists and philosophers have concerns about our environment's ability not only to sustain itself, but also to reach a point where it can actually thrive. This book examines the differences between "sustainability" and "thrivability" and discusses such topics as sociological and philosophical environmentalism, the ecosystem, and mass extinctions. It provides a review of some of the major human causes (e.g., hydro-fracking, the use of plastics, food waste, deforestation, and poor agriculture practices) that will likely bring about the sixth mass extinction. It considers the skepticism toward humans as the cause of a deteriorating environment and details nature's adverse role in harming the environment. It examines ways to help the environment thrive, and discusses the concept of "environmental happiness." Finally, the text gives reasons why choosing a thrivability approach is not only possible but beneficial, and discusses practical ways in which thrivability can be taught, both in academic settings and through community efforts.
This book can be purchased by visiting the McFarland Publishing  website: http://www.mcfarlandbooks.com/
Classical and Contemporary Social Theory: Investigation and Application  (2014)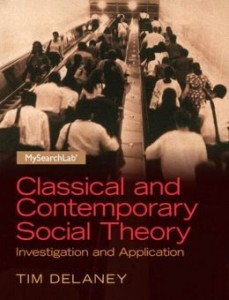 ISBN-13: 9780205960934
Classical and Contemporary Social Theory: Investigation and Application is the most comprehensive, informative, and relevant classical and contemporary sociological social theory book on the market. It provides coverage of the major classical sociological thinkers (i.e., Comte, Martineau, Spencer, Marx, Durkheim, Simmel, Weber, Mead Addams) as well as the major contemporary schools of thought (e.g., functionalism, conflict theory, symbolic interactionism, social exchange theory, ethnomethodology, phenomenology, feminist theory, critical theory and modern and postmodern theories). There is a final chapter wherein social theory is applied to future society.
This book can be purchased by visiting the Prentice Hall/Pearson website: http://www.prenticehall.com/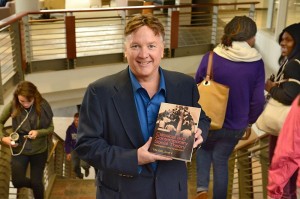 American Street Gangs, Second Edition

(2014)
ISBN-13: 9780133056075
The leading text on street gangs operating in the United States is now new and improved in this second edition of American Street Gangs, by Tim Delaney. The coverage of the number of gangs and examples of cities with gang problems has been expanded. And, among other features, that include many statistical tables, are featured "Connecting Street Gangs and Popular Culture" boxes, including photos! There is no better book on street gangs than this one.
This book can be purchased by visiting the Prentice Hall/Pearson website: http://www.prenticehall.com/
 

 

Connecting Sociology to Our Lives

(2012)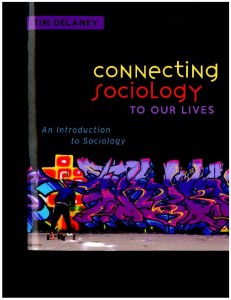 ISBN: 978-1-61205-105-5
Many introductory sociology texts claim to make sociology relevant to student interests but no other text has done this so completely and engagingly as Connecting Sociology to Our Lives. Numerous examples from popular culture and contemporary culture are included and no other introductory sociology text explains sociology so thoroughly within the frame of the contemporary culture of students–a culture that pertains as much to political, economic, environmental, and other trends as it does to today's pop stars. As Lady Gaga claims to be a member of the "sociology of fame" so too can you!
Environmental Sustainability

(2011)

THIS BOOK IS SOLD OUT!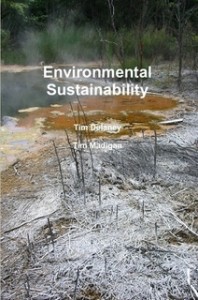 ISBN-13: 978-1257796052
Environmental Sustainability is a book designed to clarify the meaning of "environmental sustainability" as well as to show why it is such an important–indeed perhaps the most important–topic that contemporary human beings need to address. Environmental Sustainability describes the role of humanity and nature in compromising the quality of the Earth's environment.  The role of skepticism is also addressed.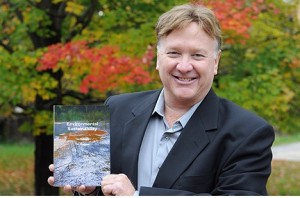 Sports: Why People Love Them!

(2009)
ISBN 978-0-7618-4496-9 • Hardback;
ISBN 978-0-7618-4489-1 • Paperback;
ISBN 978-0-7618-4490-7 • eBook
Are you ready to read a sports book that provides an overall positive slant on sports? Well, Sports: Why People Love Them! is the book for you. Among the topics covered, the social aspects of tailgating, including how to put on a great tailgate; a discussion of sports rivalries; a look at all-time great sports films; a firm commitment to promoting good sportsmanship; the role of cheerleaders in sport; promotiong sports and physical education as a means of curtailing the growing obesity epidemic; sports in prison; the positive role that sports serve with autistic children; and a discussion on the Paralympics and the Special Olympics. Plenty of photos and interviews with leadings sports personalities.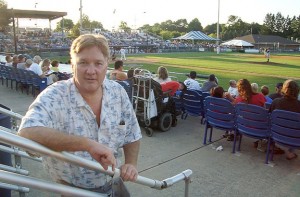 The Sociology Of Sports: An Introduction

(2009)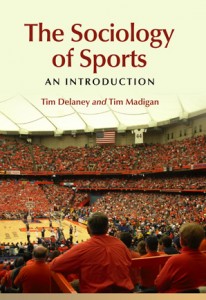 Print ISBN: 978-0-7864-4169-3
Ebook ISBN: 978-0-7864-5315-3
Ranging widely in its scope, this sociological exploration provides a critical look at the institution of sport but emphasizes the postive aspects by analyzing how sports affect and are affected by the mores, values, and general culture of a society. The Sociology of Sports: An Introduction provides a thorough study of the relationships between sports and such societal forces as violence, gender, race, religion, mass media, economics and others, commenting as well on the role of sports in high school and college life. American sports receive the fullest treatment, but the authors do not neglect the international aspects of sport.
OswegoCountyTodayArticleSociologyofSportsIntroductionText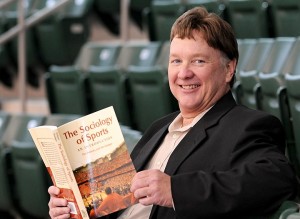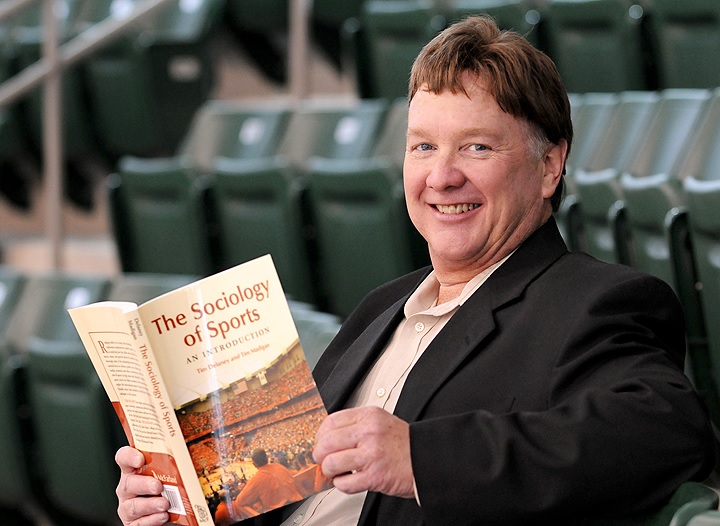 Shameful Behaviors

  (2008)
ISBN: 978-0-7618-4088-6
Shameful Behaviors: What do Paris Hilton, Britney Spears, Richard Gere, untalented American Idol singers, former FBI agent Robert Hanssen, former baseball player Jose Canseco, Dead-beat fathers, and drunken college students all have in common? They have all engaged in some type of shameful behavior. Seemingly, an increasing number of people are acting rudely, displaying poor etiquette, and acting shamelessly in an increasing number of social situations. In fact, it appears as though there is a rising culture of shamelessness in the United States. That is, people are engaging in behaviors that in the past would have brought embarrassment, shame, and a lower sense of self upon the perpetrator. Shameful Behaviors presents a unique look at American culture based on the premise that not only is there a rising culture of shamelessness; there is also a corresponding rise in formal and informal resistance against this trend. These patterns of resistance come primarily in the form of formal and informal shammings. In Shameful Behaviors, author Tim Delaney provides the reader with an informative and entertaining analysis of contemporary American culture.
This book is now SOLD OUT and OUT OF PRINT. (Look for a revised and updated version in the future!)
PostStandardShameforFameArticle1082008[1]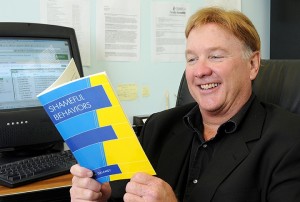 Simpsonology:

There's A Little Bit Of Springfield In All Of Us

(2008)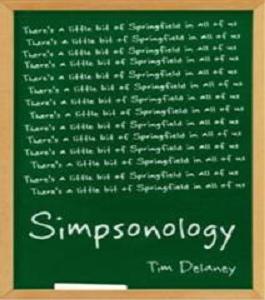 ISBN: 1-59102-559-1
Simpsonology: There's a Little Bit of Springfield in All of Us is designed to entertain and inform the reader on the social significance and relevancy of the TV show The Simpson's. The social relevance of The Simpson's is demonstrated by the fact the show touches upon every major social institution (for example, culture, friendship, romance, marriage and family, religion, politics, sports, physical and mental health, and popular culture holidays such as April Fools' Day and Halloween) found in society. Utilizing a variety of approaches including sociological, psychological, and philosophical, Simpsonology demonstrates the prevalence of The Simpson's in popular culture in the United States and around the world.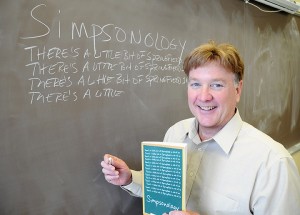 American Street Gangs

(2006)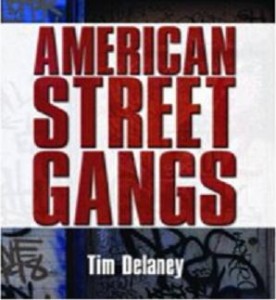 ISBN-13: 9780131710795
American Street Gangs offers a fresh and wide-ranging review of critical issues related to gang life. It provides a comprehensive historical review of street gangs; examines major theories and socio-economic reasons as to why gangs exist; presents a description of all types of gangs; including small, regional, and national gangs, and female gangs; and analyzes law enforcement techniques to combat the growing problem of gangs and diversion efforts to keep youths out of gangs. American Street Gangs will help readers to better understand the complex world of street gangs. Among the many specific gangs discussed are: Crips, Bloods, MS-13, Latin Kings, Black Gangster Disciples and the 18th Street Gang of Los Angeles. Delaney has studied street gangs first-hand in such cities as Los Angeles, San Diego, Buffalo, and Syracuse. This is the only textbook on gangs that offers a review of New York State street gangs in Syracuse, Rochester and Buffalo.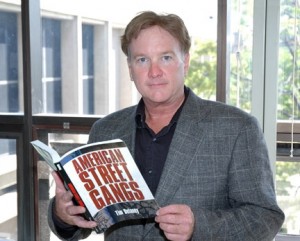 Seinology: The Sociology Of Seinfeld

(2006)

ISBN: 1-59102-395-5
The show about "nothing" is transformed into a book about "everything" as author Tim Delaney demonstrates the sociological relevance of the hugely popular television sitcom Seinfeld. Seinology: The Sociology of Seinfeld  is filled with excerpts from many of the now-classic episodes to illustrate key facets of social interaction and human behavior. In fifteen chapters, amusingly titled after some of the show's famous incidents, Delaney reviews what its characters teach us about ourselves and the complex society in which we live. Whether you are the "master of your domain," "sponge worthy," a "double dipper" or not, you will find this book an engaging and entertaining way to learn basic sociological concepts and relive many of your favorite Seinfeld memories.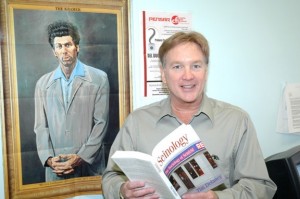 Contemporary Social Theory:

Investigation and Application

(2005)
Contemporary social theory is dominated with a large number of social theorists who are generally very specialized in specific areas of study. As a result, contemporary social theory is usually described in relation to "schools of thought" where like-minded theorists are lumped together. Contemporary Social Theory: Investigation and Application begins with an examination of social theory and is followed by a review of the major schools of thought. In each of the chapters on the major schools is a review of the basic tenets, a discussion on some of the major theorists found in each school, their influences, and their contributions to social theory. The final chapter, "Applying Social Theory to Future Society," predicts events to occur the future. Delaney introduces such terms as the "five horrorists" and "enviromares"–concepts that will be applied in his study of the environment in future publications.

Classical Social Theory:

Investigation and Application

(2004)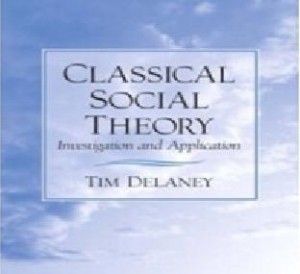 ISBN-13: 9780131109001
Classical Social Theory: Investigation and Application provides an excellent overview of classical social theory with a concentration on sociological thought. An introductory chapter provides a review of some of the many social, political, and philosophical antecedents that preceded the founding of sociology. Chapters Two through Thirteen provide a review of specific social thinkers critically important to the development and expansion of the field of sociology. Among the theorists discussed are Comte, Spencer, Marx, Durkheim, Weber, Simmel, Mead, and Homans. Special focus is paid to showing the relevancy of the ideas of these classical social thinkers. In Chapter 14, "Contributions from Women to Classical Social Theory," Delaney presents the only textbook on classical social theory with a chapter on the contributions of early women social thinkers (written by the author of the textbook itself).
Social Diseases: Mafia, Terrorism, and Totalitarianism

(2004)

[SOLD OUT]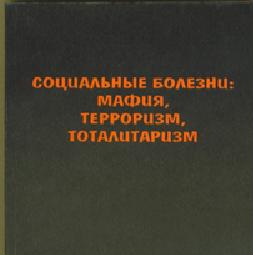 Social Diseases: Mafia, Terrorism, Totalitarianism represents a collection of works written by scholars from the United States and Russia. The editors, Tim Delaney, Valerii Kuvakin, and Tim Madigan contributed chapters on this collaborative book published by the Russian Humanist Society. Delaney's chapter "The Russian Mafia in the United States" provides a brief review of the origins of the Russian Mafia and their growing influence in organized crime schemes in the United States. Delaney's "Street Gangs: A Growing Social Problem" provides an excellent review of the growing presence of gangs in the United States and worldwide.
This book is sold out…however, if you want copies of specific chapters or bits of information contact me via email: Tim.Delaney@oswego.edu
Values, Society & Evolution (2002)

[SOLD OUT]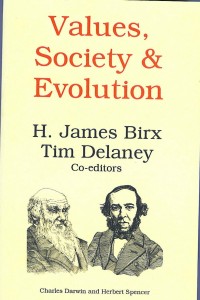 In Values, Society and Evolution, primary Editor Tim Delaney secured chapter submissions from scholars around the world including the United States, Russia, New Zealand and Spain. A wide variety of topics are discussed in this book including, Herbert Spencer and his ideas on social evolution; Karl Marx and social change; the role of religion in society; religious doomsday cults; the value of multiculturalism; the role of the media in sports; the value of sports heroes to society; and ethical issues in social research. The underlying theme of this book is the realization that most brilliant thinkers share a belief in the overall progress of humanity due to the guiding principles of rationalism and scientific inquiry and discovery.
This book is sold out…however, if you want copies of specific chapters or bits of information contact me via email: Tim.Delaney@oswego.edu
Community, Sport and Leisure (2001, 1999) 

[SOLD OUT]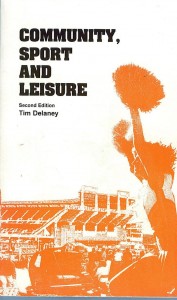 Community, Sport and Leisure represents Delaney's first book. A great deal of original research conducted by Delaney is presented in Community, Sport and Leisure. The author clearly demonstrates the important role of sport in society. Sport is one of the most dominant institutions in American society (behind, perhaps, the family and religion) and its place in culture has been well documented throughout history and will assuredly remain a dominant institution in the future. Among the topic areas are the role of sport in the community; behaviors of sport gamblers; the controversy surrounding the use of "Indian" imagery in sport nicknames, logos, and mascots; the role of athletes as heroes; and an analysis of the similarities and differences between sport and religion.